ABOUT US
Read our story
About Us
Flow: Beautrais x de Vegt  is an album and show that celebrates the Whanganui River and the stories of its people. It is made up of fifteen original compositions by Elizabeth de Vegt using poems from Airini Beautrais' collection Flow: Whanganui River Poems (VUP2017) as lyrical inspiration. The compositions celebrate traditional and contemporary musical forms, including jazz, working songs, sea shanties, folk, country and pop. More importantly, this unique creative collaboration, elevates the stories at its core ensuring they continue to be shared and remembered.
Flow was recorded live, in the historic Royal Whanganui Opera House in early January 2022 with accompanists Andrew Wetherall, Hamish Jellyman, Brad McMillan and Elise Goodge. 
The Flow Collective is:
Elise Goodge – Taonga puoro + vocals
Andrew Wetherall – Electric guitar
Brad McMillan – Drums
Hamish Jellyman – Bass guitar/synth + vocals 
Elizabeth de Vegt –  Piano + acoustic guitar + vocals.
Band Biographies
Elizabeth de Vegt:
Composer, Project Founder and Performer.
Elizabeth de Vegt is a composer, sound artist, performer, researcher and singer songwriter living in Whanganui, New Zealand. She is currently working as a professional musician and music lecturer at UCOL in Whanganui New Zealand. Prior to coming to Whanganui, she has undertaken full time academic research at PhD Level, after having been awarded a Doctoral Scholarship and a Sir Edmund Hillary Scholarship at the University of Waikato. Elizabeth has a Masters of Music (First Class Honours) and was 'Creative/ Performing Arts Person of the Year' in 2009 at The University of Waikato. Her music covers a wide range of styles including contemporary classical, electroacoustic, singer-songwriter and theatrical soundtracks. Her music has been performed in New Zealand, Australia, Europe and the United States of America. She holds multiple certificates in adult teaching along with a Diploma in Professional Coaching as well as the 2015 Gill Presland Award from The Universal College of Learning for excellence in teaching. She has taught contemporary music at UCOL Whanganui for the past 10 years.
Elise Goodge:
Taonga Pūoru and vocals (Traditional Māori instruments)
Ngā Tangata Tiriti
Elise trained in Musical Theatre Performance in London before returning to New Zealand and working in Event Production. It was this role that first introduced her to the Haumanu collective of taonga puoro players in 2002 including Richard Nunns and Brian Flintoff. This began a journey of learning to play and make instruments as well as compose. While continuing to organise taonga pūoro related events Elise has played with Deborah Wai Kapohe and Ihirangaranga as well as performing solo. She has been recorded on sound-scapes for Te Papa Exhibitions and recorded an album called Auaha on the Whanganui River in 2017. She is one of the founders of the local taonga puoro revival group Awa Puoro ki te Ao..
Andrew Wetherall:
Electric guitar.
Andrew has built a long successful music career, teaching and playing guitar for many rock bands in Whanganui including The Replicants, Certified, Broomdance and Baseland. Andrew has always had a passion for music and teaching, particularly enjoying developing local up and coming guitar players. Andrew has a Bachelor Of Applied Arts (Music) and a Graduate Diploma in Teaching and is currently Head of Music at Whanganui City College.
Creating distinctive sounds and tones to decorate songs using vintage guitars and amps, with boutique effects pedals is something Andrew enjoys, when not blasting hard rock from his Les Paul. He is also a songwriter and composer and has released songs for local compilation albums & also produced a solo album which featured songs influenced by New Zealand war stories.
When not playing guitar, teaching or gigging you probably will find Andrew out fishing or at home with his family.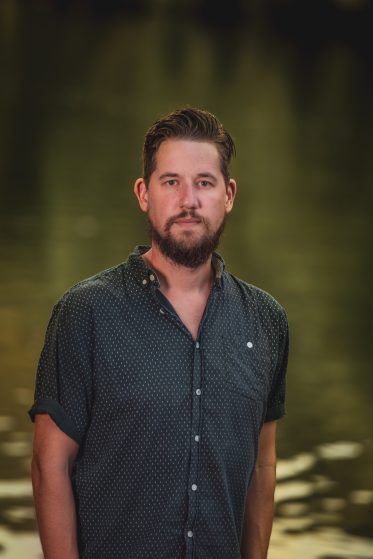 Hamish Jellyman:
Bass, synth and vocals.
Hamish is a multi instrumentalist and composer from Whanganui.  He completed a Bmus from New Zealand School of Music, majoring in classical performance – trombone.
Hamish has toured Aotearoa extensively, and also performed in Japan, China, Hong Kong and Australia with New Zealand Symphony Orchestra, National Youth Orchestra, National Youth Brass Band, Auckland Jazz Orchestra, Royal New Zealand Air Force Band, Niko Ne Zna, Roseneath Centennial Ragtime Band, Chatchy, Superhero Second Line, Brass Whanganui, Spiral Jazz Collective and The Gramophone Band.
 Hamish has performed on many studio recordings including Shapeshifter, Gareth Thomas, National Youth Brass Band, The Gramophone Band, Spiral Jazz Collective and recorded compositions with Niko Ne Zna, Roseneath Centennial Ragtime Band, Chatchy and Superhero Second Line.
Hamish loves to teach music and has spent many years in schools in Auckland, Tauranga, Hamilton, Whanganui and Wellington teaching itinerant music, and leading jazz and concert bands.
Brad McMillan:
Drums and Percussion
Brad trained at the Wellington Jazz School in the late 90s before beginning full time work as a drummer playing for such bands and musicians as Sam Manzanza, Project, Continuum, Troy Hunt, Justin Firefly Clark, Te Kupu, Perry Osborne, Parcel of Rogues, John Mills, Royale and The 50 Grand. Brad also undertook self directed study of African, Pacific, Balkan and Brazilian percussive forms and techniques. Brad currently resides in Whanganui where he plays with local bands The Conrays and Baseland.
Credits:
River illustration album cover by Kurt La Roche.
All photos by Steve Caudwell.
Released by Oro Records, New Zealand 2022.
Recorded by Dave Griffiths & Fergus Reid at The Royal Whanganui Opera House, Whanganui, New Zealand.
Mixed and mastered by Nigel Mauchline at The Stomach, Palmerston North, New Zealand.
Elizabeth de Vegt would like to thank:
Airini Beautrais
Piet de Vegt
The Band – Elise, Brad, Andrew & Hamish
Cecelia Kumeroa & Sacha Keating
Carla Donson
Oro Records
Kurt La Roche
Dave Griffiths, Fergus Reid & Nigel Mauchline
The Royal Whanganui Opera House Event Staff
ALBUM RELEASE
2022         FLOW : Beautrais x de Vegt